Spring is in the air, and it's time to dust off those drab winter coats to make room for some vibrant and fresh spring styles. We have handpicked five of the most fashionable outfits from our Spring Sale 2023 that will make sure your wardrobe is as lively and vivacious as spring itself. From the Iman Vellani White Jacket to Lebron James Varsity Jacket, we have got all the spring outfits for men and women. So buckle up as we take you on a spring fashion ride.
Ms. Marvel Iman Vellani White Jacket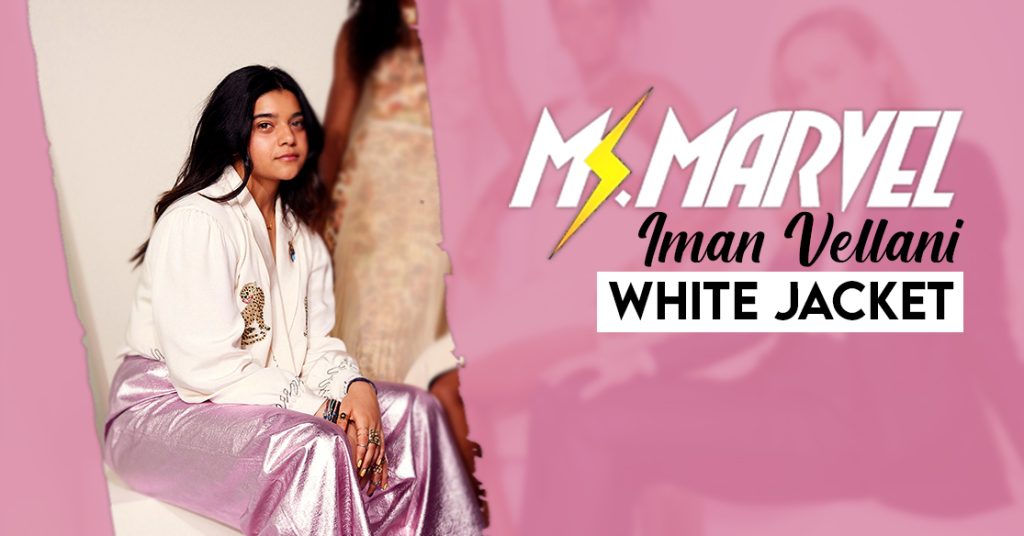 To start our list of spring outfits for women, we are taking inspiration from the young and talented Iman Vellani, who plays Ms. Marvel in The Marvels 2023. Her white jacket perfectly captures a casual chic look that works as a versatile spring wardrobe staple.
A Touch of Superhero Class
This white jacket is a perfect embodiment of the cool and casual vibe that spring resonates. Moreover, it's versatile, which makes it the ideal choice for both your daytime picnic and your evening dinner dates. So, the Marvels Iman Vellani White Jacket is made of premium-quality cotton, which provides a balance of comfort and style. Also, the interior lining is made of soft viscose to keep you snug on those breezy spring evenings.
Styling the Jacket
So you can pair this jacket with a colorful spring dress for a bright and breezy look with a bit of superhero sass. Alternatively, you can rock it with denim jeans and a graphic tee for a casual day out. Remember to complement the outfit with accessories that reflect your personality, like chunky bracelets or sleek sunglasses.
Luke Bryan's American Idol Studded Leather Jacket
The second must-have in our spring outfits collection is a piece that promises to make you the life of any spring party. Inspired by Luke Bryan, this outfit infuses a rocker vibe into your spring wardrobe.
Details & Features
This jacket is a perfect addition to your spring wardrobe. Its overall aesthetic can help you stand out from the crowd. The American Idol Luke Bryan Leather Jacket is crafted from genuine leather, which provides durability and a sleek look. Moreover, its inside is lined with soft viscose, providing extra warmth and comfort. The defining feature of this jacket is the metal studded design across the shoulders and sleeves.
Rock the Spring with a Rockstar Look
To nail this look, you can pair the jacket with black jeans and a simple white tee. Balance out the edgy vibe with statement belg. You can also wear it over a simple T-shirt for a night out. Remember, the key is to keep the rest of your outfit simple so that the jacket can shine!
Star Wars The Force Awakens Han Solo Leather Jacket
Spring fashion doesn't always mean bright colors and floral patterns. For our third pick from the spring jackets collection, we present the timeless style of the legendary Han Solo from Star Wars; The Force Awakens. His brown leather jacket offers a perfect balance of style and comfort.
Channel Your Inner Star Wars Fan
Inspired by the legendary character Han Solo from Star Wars, the Star Wars Han Solo Leather Jacket combines a vintage look with a modern twist. It's ideal for those who want to make a subtle yet strong style statement. This jacket is made from real leather, promising longevity and a suave look. Inside, it's lined with viscose, which adds to its comfort factor. The Han Solo Jacket features a unique front buttoned closure and a stand-up collar.
Styling Tips
So, pair this versatile jacket with a casual white shirt and black jeans for a relaxed look. If you are going for a more adventurous style, wear it over a graphic tee with your favorite Star Wars quote or character. Also, don't forget to accessorize with a rugged belt and boots to complete the chic look.
Rough Diamonds Kevin Janssens Brown Leather Jacket
Our fourth on the list in our spring outfits collection is inspired by Kevin Janssens' character in Rough Diamonds. The classic brown leather jacket exudes an aura of elegance and sophistication which makes it a stylish spring choice.
Exuding Elegance in Brown Leather
The Rough Diamonds Kevin Janssens Brown Leather Jacket is a blend of classic and modern styles. This brown leather jacket is made from high-quality genuine leather. Its interior is lined with viscose to provide comfort. This jacket stands out due to its rib-knitted collar, front zip closure, and ribbed cuffs. The design is minimalist yet captivating, with spacious pockets adding to its appeal.
How to Wear This Jacket
This brown leather jacket can be worn with a light-colored button-down shirt and dark jeans for a casual yet classy look. For a more dressed-up style, pair it with a turtleneck sweater, tailored trousers, and loafers. The jacket's neutral tone makes it incredibly versatile, allowing it to match a variety of color schemes and clothing styles.
Lebron James Varsity Jacket
Finally, for those who love a sporty look. Our fifth spring outfits for men is a varsity jacket inspired by basketball icon Lebron James. Perfect for a casual day out or a sporty event, this jacket brings a fresh, youthful vibe to your spring wardrobe.
Sporty Chic for Spring
This jacket is a tribute to the iconic basketball player and a must-have for sports enthusiasts. The Lebron James Varsity Jacket features a wool blend body and leather sleeves, providing both style and warmth. The inner layer of viscose provides added comfort. The jacket has a buttoned closure, rib-knit cuffs, and contrasting leather sleeves. It also features two waist pockets and two inner pockets for functionality.
Tips to Style the Varsity Jacket
You can pair this jacket with denim shorts and a casual tee for a laid-back, sporty look. Sneakers are a must for this look, and you can complete the outfit with a casual cap or a stylish backpack.
Wrapping Up
As we welcome spring, it is exciting to refresh our wardrobe and embrace new spring outfits. Remember, the key to a great outfit is not just the pieces themselves but how you style them according to your personality and comfort. These five spring outfit ideas offer versatility, allowing you to mix and match while staying stylish. Let's step into spring with confidence and a dash of fashionable fun.